Lifestyle
Vegan Plantains With Spicy Red Pepper and Tomato Rice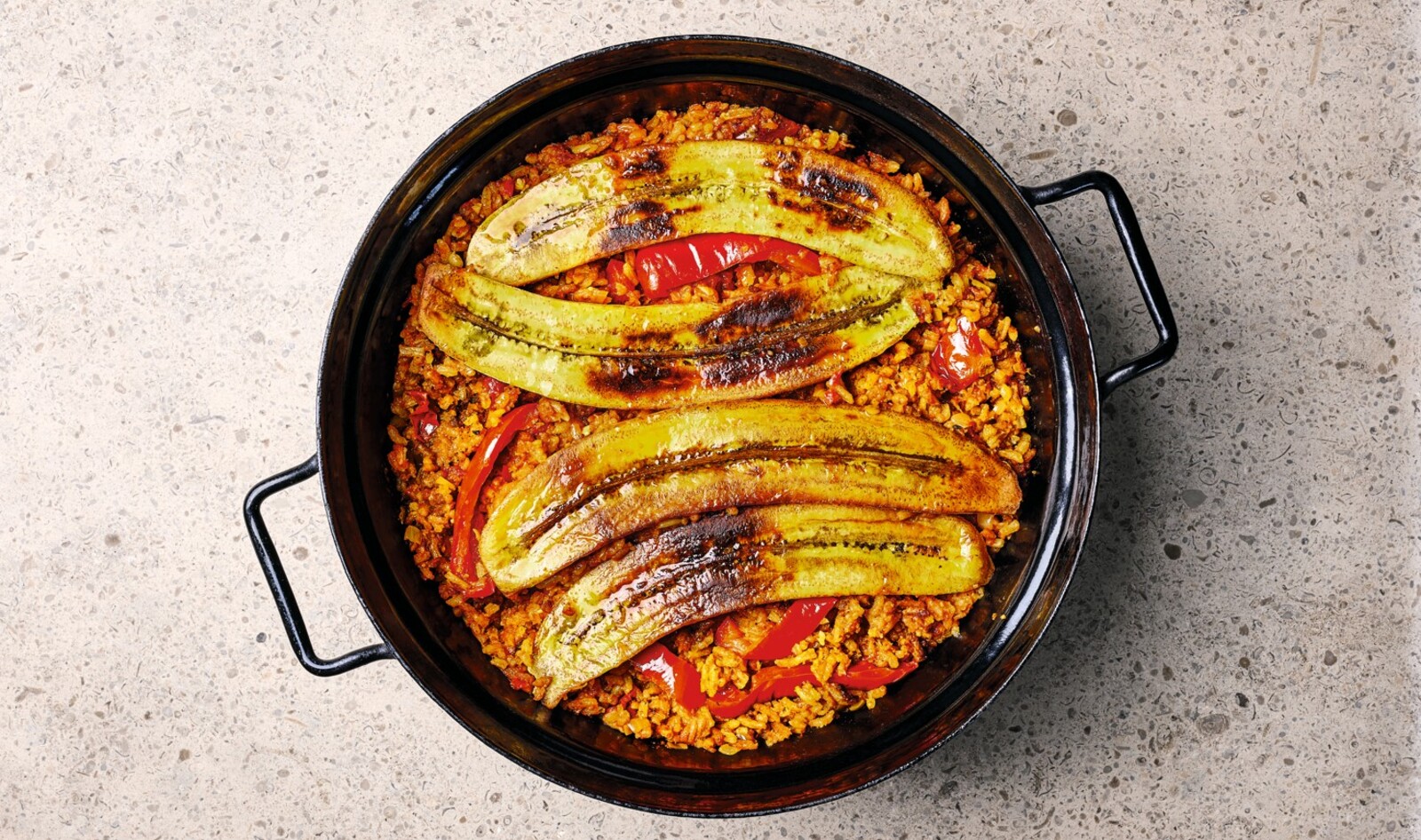 This simple dish relies on very ripe plantains to achieve the right bite and texture when frying (look for ones with almost black peels). Fiery Scotch bonnets and mild red bell peppers mingle with the plantains and tomatoes to lend a gentle, sweet heat to this rice-based meal from the Broke Vegan One Pot cookbook.
What you need:
4 tablespoons vegetable oil 
2 large ripe plantains, peeled and halved
½ teaspoon salt, divided
2 white onions, finely chopped
4 garlic cloves, crushed
1-inch piece ginger, peeled and finely grated
1 Scotch bonnet pepper
3 plum tomatoes, chopped
3 red bell peppers, cut into 1-inch pieces
2 teaspoons curry powder
5 tablespoons tomato purée
1 (13-ounce) can chopped tomatoes
3 bay leaves
1⅓ cup white long‑grain rice, washed and drained
1 cup vegetable broth
¼ teaspoon black pepper
¼ cup parsley leaves, roughly chopped, to serve
What you do:
In a large, heavy-based pan over medium heat, warm oil. Add plantains and fry for about 2 to 4 minutes until golden brown on all sides. Remove with a slotted spoon and let drain on a paper towel-lined plate. Sprinkle with ¼ teaspoon salt. 
To oil left in pan, add onions, ginger, and garlic, and cook for about 8 minutes, or until soft. Add chili, tomatoes, and bell peppers and cook for another 5 minutes. Stir in curry powder and tomato purée until well coated, then mix in tomatoes and bay leaves. Simmer for 10 minutes until most of liquid has evaporated. Mix in rice, broth, and pepper and bring to a boil. Reduce heat, cover, and cook gently for 25 minutes. 
Give mixture a stir, then place fried plantain on top of rice, cover again, and cook for another 20 minutes until rice is cooked, but with a slight bite to it. Top with parsley and serve.