Lifestyle
Vegan Cashew Mac and Cheese With Lobster Mushrooms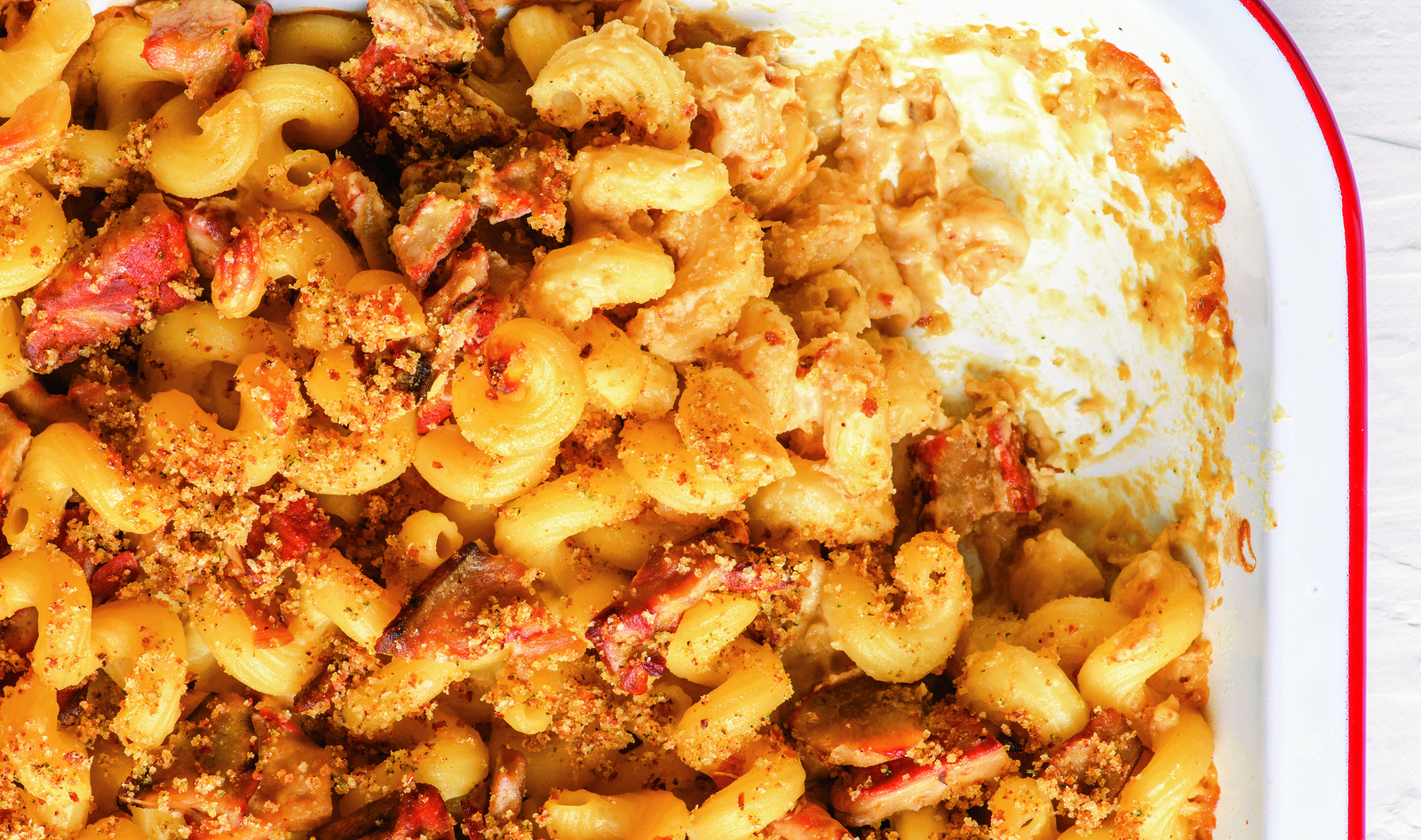 This take on the beloved comfort food dish from Lisa Dawn Angerame's cookbook Wait, That's Vegan? makes for a perfect romantic dinner. Make it on date night and serve with a glass of champagne!
What you need:
1 ounce dried lobster mushrooms, soaked overnight, water reserved
For the cheese sauce:
1 cup raw cashews
¾ cup water
2 tablespoons melted coconut oil
2 tablespoons ume plum vinegar
2 tablespoons nutritional yeast
1 tablespoon mashed roasted garlic
1 tablespoon lemon juice
1 tablespoon mellow white miso
⅛ teaspoon salt
For the pasta:
½ pound uncooked cavatappi pasta
1½ tablespoons olive oil, divided
3 shallots, thinly sliced
1⁄4 cup mushroom soaking liquid, strained well
3⁄4 cup water
2 tablespoons breadcrumbs
What you do:
Preheat oven to 350 degrees. Place a baking dish on top of a half sheet pan. 
For the mushrooms, remove from water (reserving liquid), squeeze to drain, and add to a strainer. Rinse mushrooms to remove any grit. Chop into bite-sized pieces and set aside. Strain reserved soaking liquid through a paper towel and set aside. 
Into a blender, add cashews and water and blend until smooth. 
For the cheese sauce, into a blender, add cashew cream, oil, vinegar, nutritional yeast, roasted garlic, lemon juice, miso, and salt and blend until smooth. Set aside. 
For the pasta, bring a large pot of salted water to a boil. Cook pasta according to package instructions. Reserving some cooking water, drain pasta, then return it to the same pot. 
In a nonstick skillet over medium-low heat, warm 1 tablespoon oil. Once shimmering, add shallots and salt, and cook until translucent, about 5 minutes. Add chopped mushrooms and stir. Add mushroom soaking liquid and water and bring to a simmer. Cook, uncovered, stirring occasionally, until liquid has almost evaporated and mushrooms are soft, about 30 minutes. 
Into pasta pot, pour mushroom-shallot mixture and cheese sauce. Gently mix everything together, adding a little pasta water to make the sauce silky. Carefully pour the entire mixture into the preheated baking dish. 
In a small mixing bowl, combine breadcrumbs and remaining oil, stirring until completely incorporated. Sprinkle on top of mac and cheese and bake for 30 minutes, until the top is crispy and sauce is bubbling. Let stand for at least 10 minutes to cool, then serve.