Lifestyle
The 'Got Milk' Campaign's Nepo Babies Want You to Drink More Vegan Milk
While the dairy industry attempts to bring back old-school "Got Milk" campaigns, dairy-free company Silk is looking to the next generation of milk drinkers with its new "Silk Next Milk" campaign.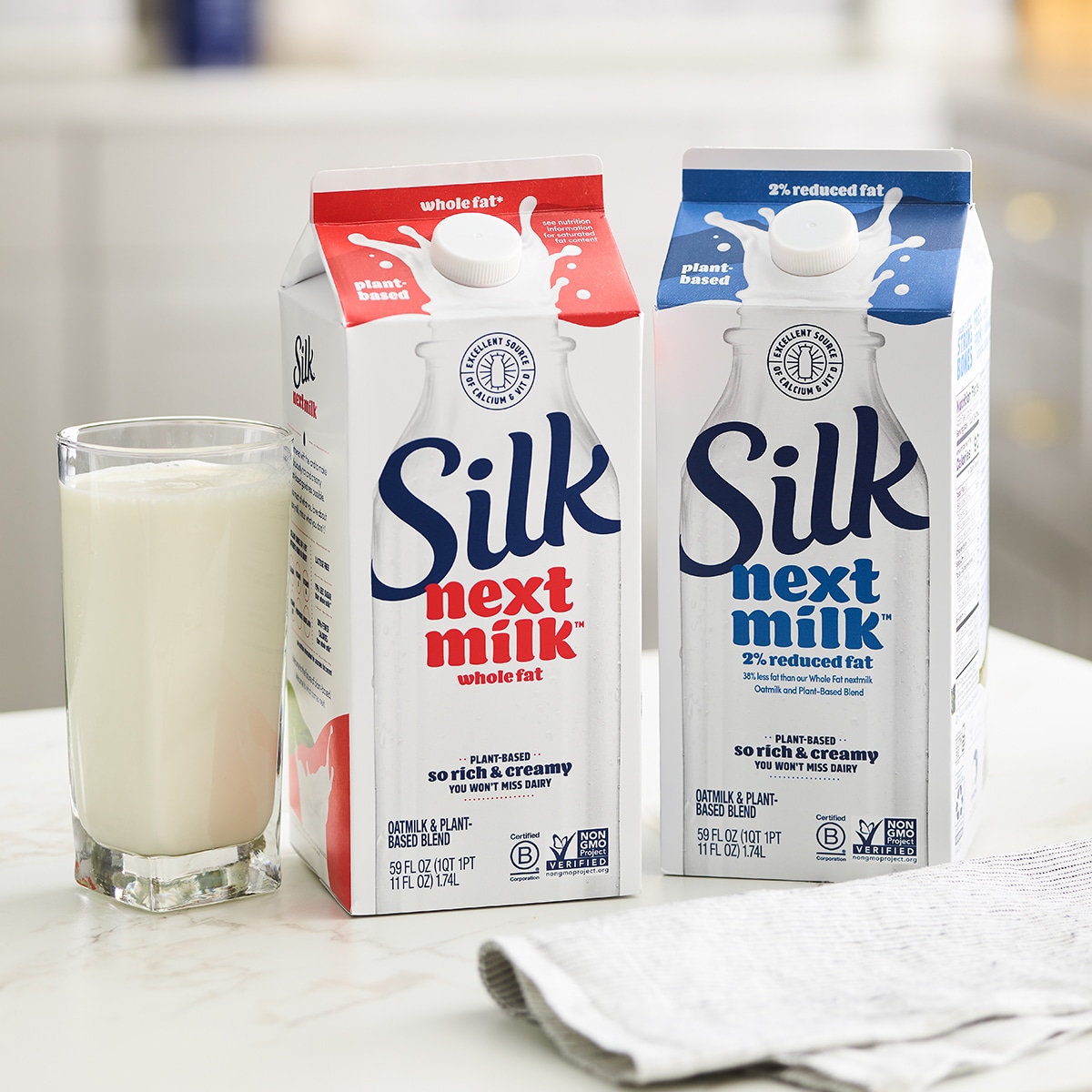 Silk
For its new vegan milk campaign, the company tapped a group of ambassadors who represent the next generation, namely children of iconic celebrities, including Brooklyn Peltz Beckham, Ella Bleu Travolta, Myles O'Neal (along with siblings Shareef, Me'Arah, Shaqir, and Amira), and Sailor Brinkley Cook. 
Peltz Beckham—who is the son of Victoria and David Beckham—has been busy showing off his cooking chop on social media, with recent vegan dishes such as lasagna. "I love cooking and trying new recipes with my wife," Peltz Beckham said in a statement. "It's exciting to have an option like Silk Nextmilk when we are doing a plant-based meal." 
The O'Neal siblings—whose father is legendary NBA player, and lover of Slutty Vegan's burgers, Shaquille O'Neal—also dabble in the plant-based world, particularly dairy-free beverages.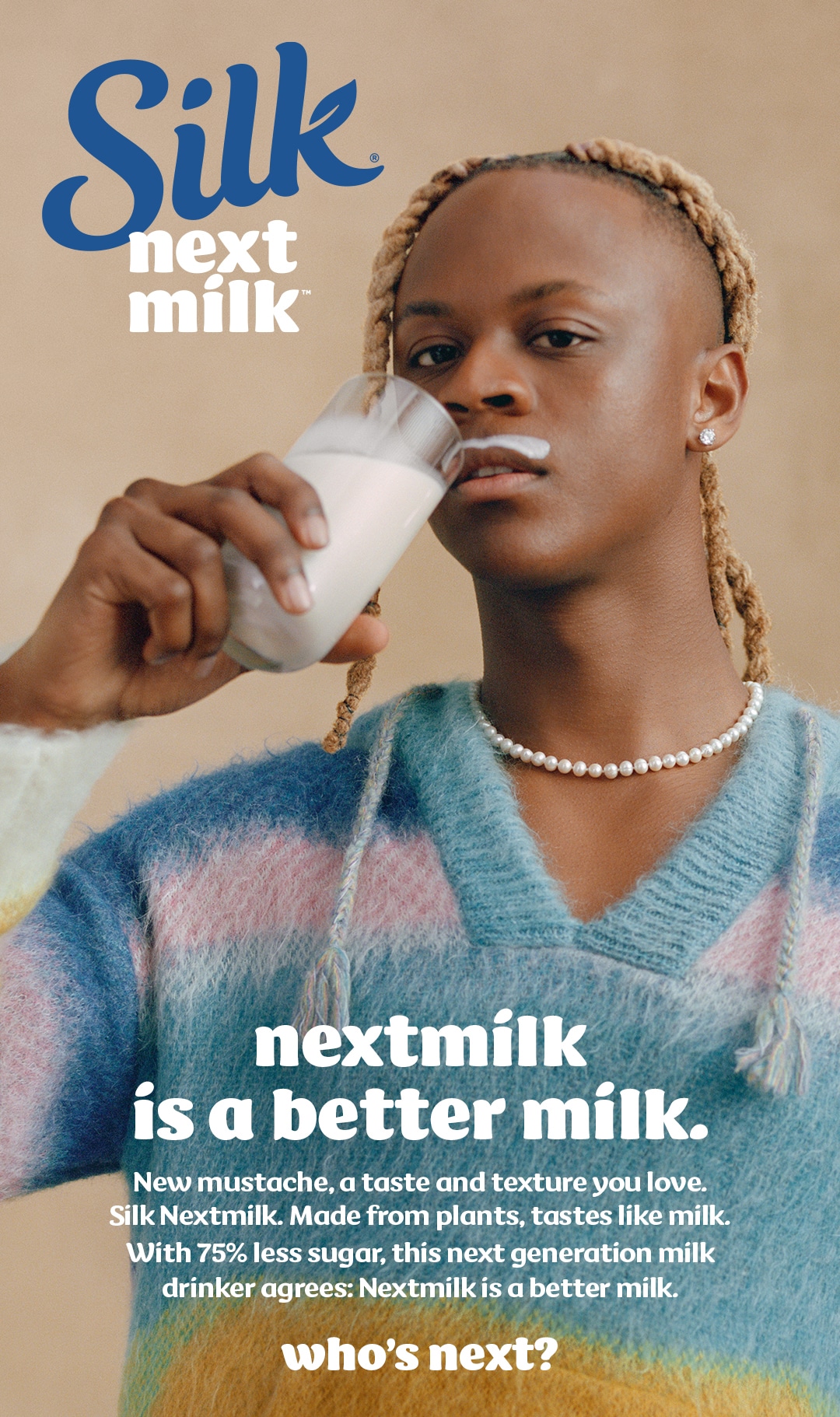 Silk
"Family is extremely important to me; I'm grateful to have my siblings by my side as we define our own plant-based 'stache legacy with Silk Nextmilk," Myles O'Neal said in a statement. "Adding more plant-based options into my routine helps keep things fresh, and I enjoy Silk Nextmilk as a base for my morning protein shakes without lactose."
Silk's next-gen vegan milk line
Silk first launched its Nextmilk line last year after a rigorous research and development process. Available in whole-fat and 2 percent reduced-fat varieties, the vegan milk is made from a combination of plant bases, including oat, coconut, and soy. The company formulated the line to mimic dairy on multiple levels—such as key nutritional factors, molecular composition, and iconic sensory elements—to deliver an improved plant-based milk-drinking experience.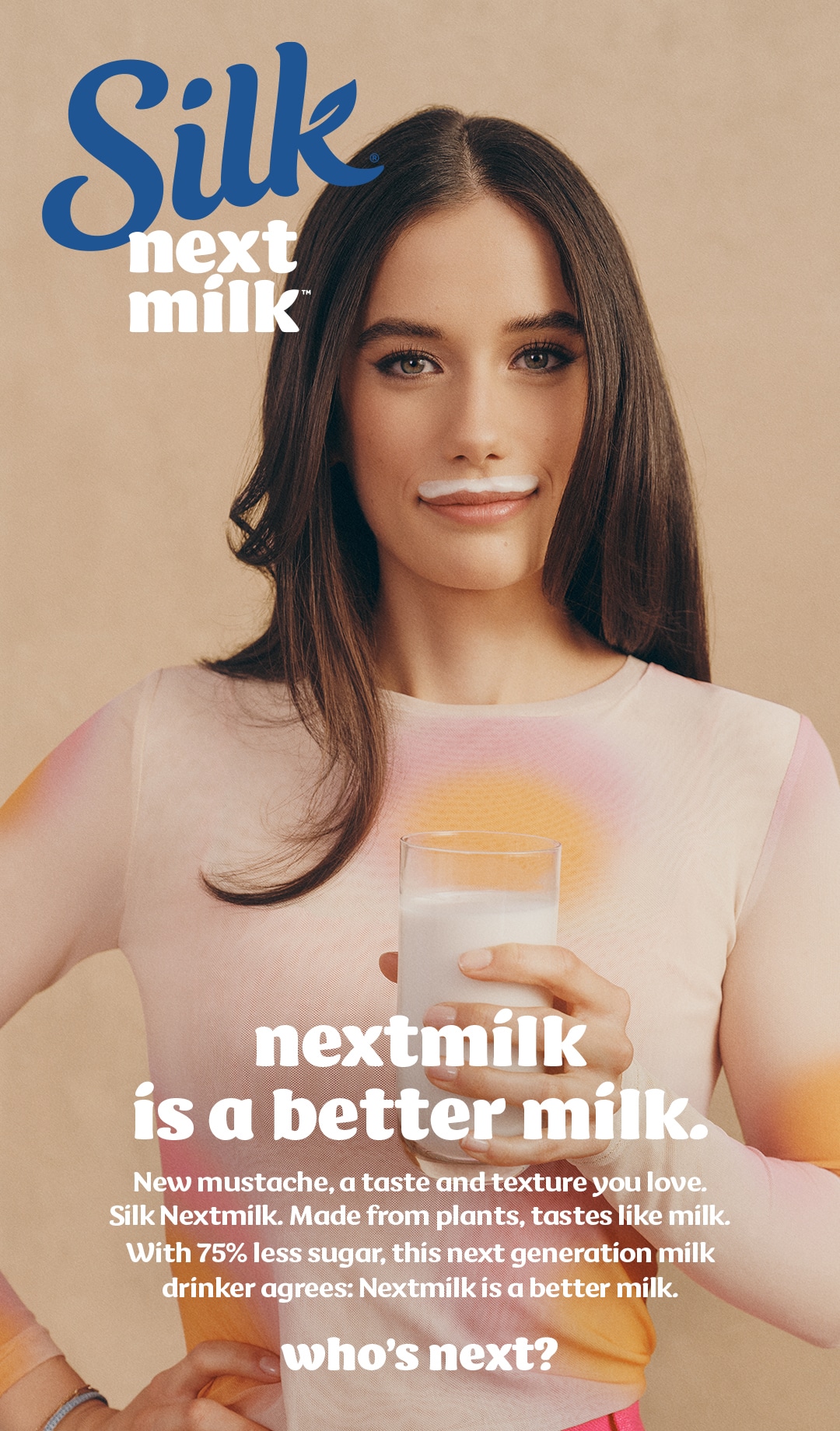 Silk
Its new campaign is centered around sending the message that this next generation of milk is aligned with what the next generation wants—a message supported by research that consistently points to Gen-Z as a driving demographic for a shift in plant-based eating. 
"Silk Nextmilk is here for the next generation of milk drinkers, and as a proud vegan and Silk fanatic, I'm thrilled to be one of the first faces repping Silk with a plant-based 'stache," Travolta—daughter of actors John Travolta and Kelly Preston—said in a statement.
"I'm a baking enthusiast, so if I'm not drinking a glass of Silk Nextmilk, I'm adding it to a batch of my homemade plant-based banana bread," she said. 
Like milk campaigns of the past, Silk's next-gen approach will feature celebrities donning vegan milk mustaches across social media platforms and on billboards in New York, Los Angeles, and Las Vegas. 
Another prominent face of the campaign is Brinkley Cook, daughter of legendary supermodel Christie Brinkley who previously credited her plant-based diet for maintaining her youthful looks.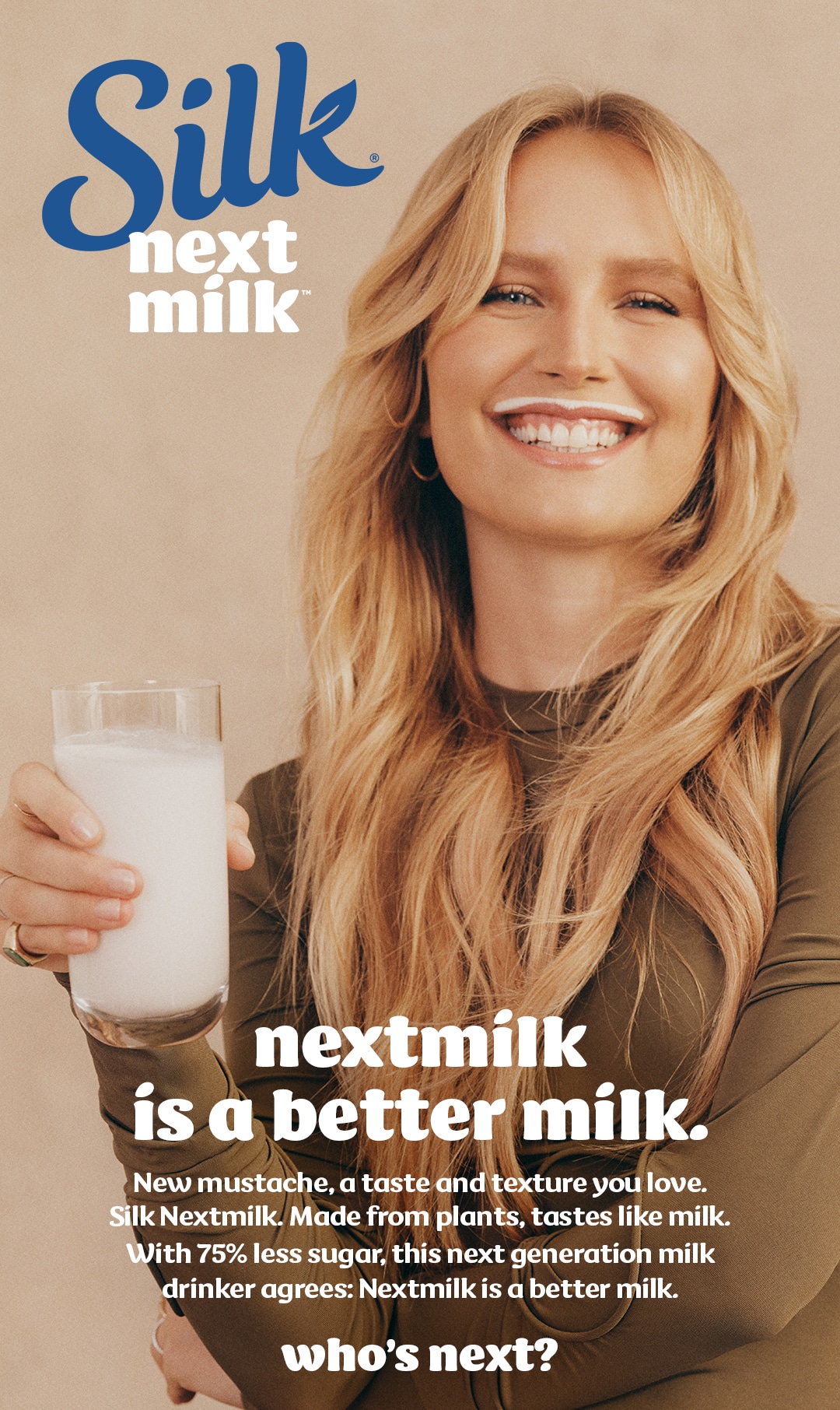 Silk
"I grew up in a plant-based household, so it's extra important for me to reach for great-tasting products in my diet," Cook said in a statement. "I have a real sweet tooth and I love dunking my favorite vegan cookies in Silk Nextmilk."   
Silk's celebrity milk campaigns
Danone is known best for its dairy products but in recent years, has dug deep into the plant-based industry through its WhiteWave suite of brands—which includes Silk, So Delicious, Vega, and Alpro—which it acquired in 2016 for $12.5 billion. 
Since then, Danone has been investing in boosting these brands in numerous ways, including through new product lines and celebrity-backed campaigns. Last year, Silk partnered with musical artist Kelly Rowland to help promote its #SwapItWithSilk taste challenge on Tik Tok. 
This campaign followed Silk's 2021 G.O.A.T. campaign which posited that its oat milk was the Greatest of All Time (G.O.A.T.) milk and featured celebrity ambassadors—including Gordon Ramsay, Alicia Silverstone, and Gabi Butler—who are the G.O.A.T. in their own right.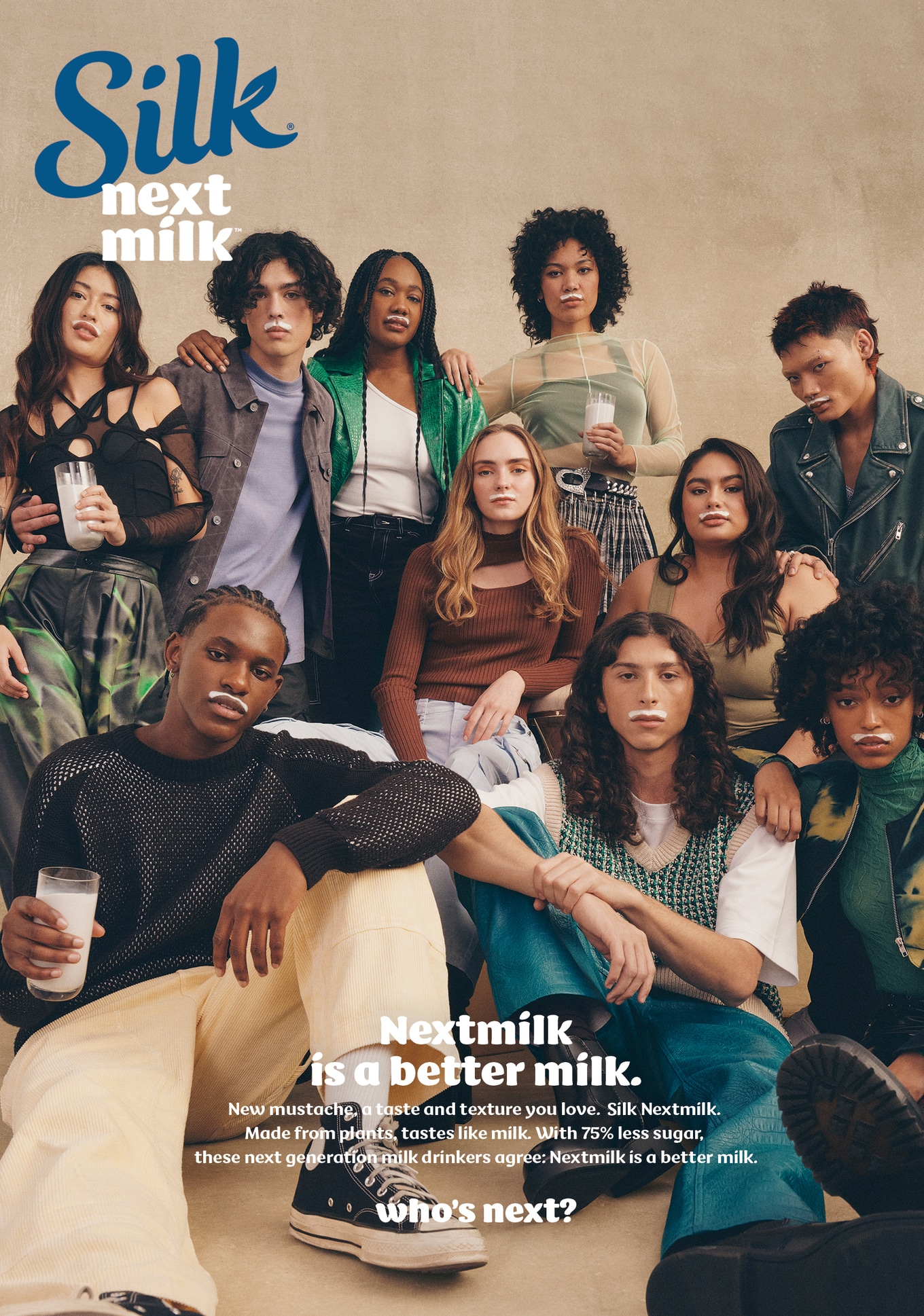 Silk
For its new campaign, Silk also launched a TikTok milk 'stache filter giveaway which gives fans a chance to win a year's worth of Silk Nextmilk and a spot on a billboard in NYC's Times Square. All of these elements were chosen to usher in a new era of milk advertising for a new generation that continues to choose vegan milk over dairy. 
"With help from the faces of the next generation, we're showing just how easy it is to reach for and enjoy plant-based beverages like Silk Nextmilk," Olivia Sanchez, Vice President of Marketing, Plant-Based Beverages for Danone North America, said in a statement.
"As a leader in the plant-based category, we recognize that the next generation is interested in incorporating more plant-based options into their lifestyles," she said. 
For the latest vegan news, read: