Lifestyle
Tabitha Brown's 5 New McCormick Seasonings Promise Bold Flavor, From Barbecue to Burgers
Vegan influencer Tabitha Brown and seasonings company McCormick are at it again with the launch of new vegan seasonings. Back in 2021, the duo collaborated on Sunshine All Purpose Seasoning, a wildly successful product that consistently sold out during its initial launch.
Now, Brown has worked with McCormick to release five additional seasoning blends created to build out an entire line dedicated to the vegan influencer.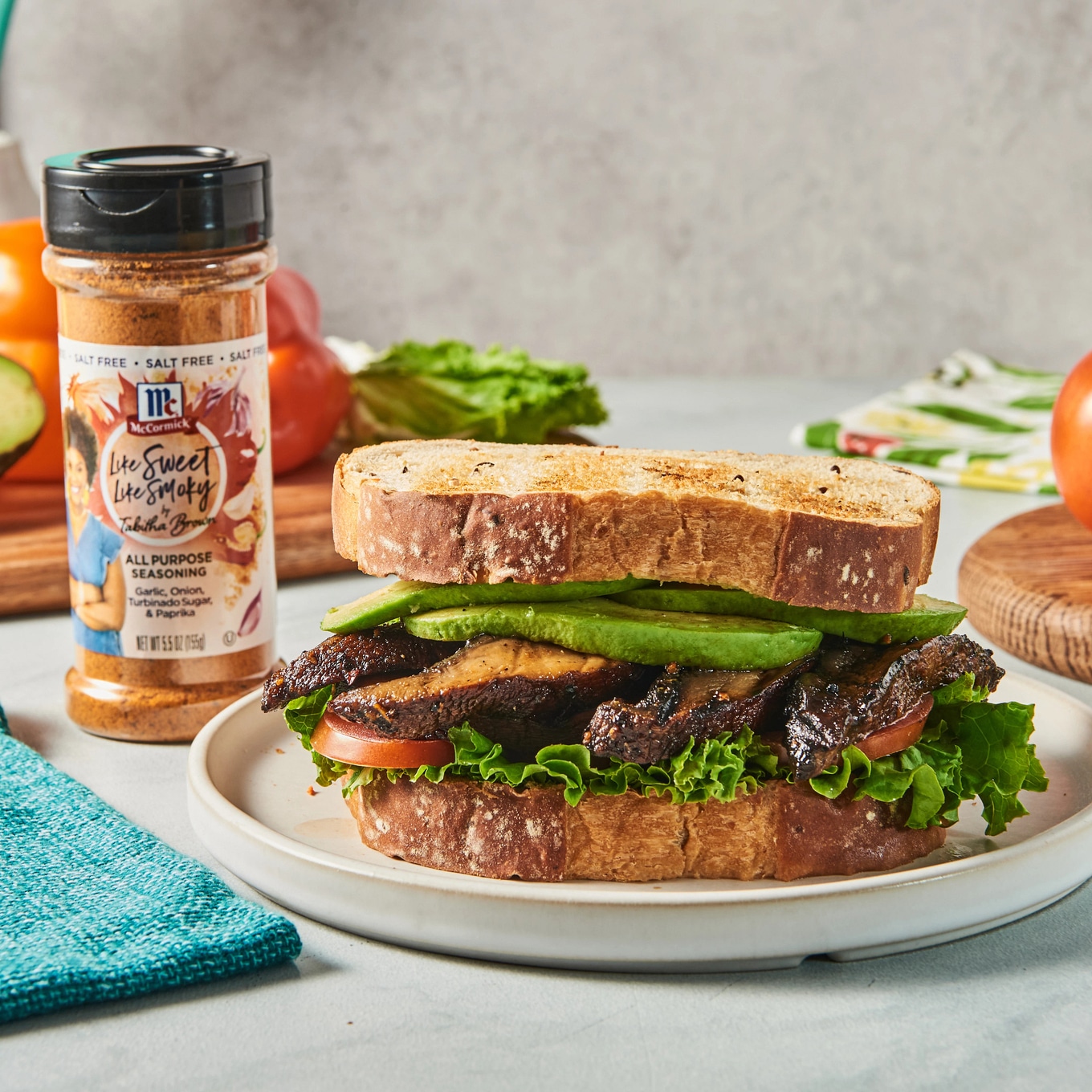 McCormick
The Like Sweet Like Smoky All Purpose Seasoning is a blend of sweet and smoky flavor that Brown uses to make plant-based foods like bacon. The Very Good Garlic All Purpose Seasoning is loaded with garlic—a known favorite of Brown's—to add a savory punch to veggies, pasta, marinara sauce and more. 
"I brought a little bit of sunshine to food lovers with McCormick and Sunshine Seasoning, and it's definitely time we teamed back up to bring more joy and love to your kitchen to inspire healthy cooking every day of the week," Brown said in a statement. 
The remaining three blends play on Brown's "that's your business" catchphrase and include: Taco Business Seasoning Mix; Burger Business Seasoning Mix; and Sauté Business Seasoning Mix.  
"I can't wait to see how everyone decides to spice up their meals with my new salt-free seasoning blends and recipe mixes, whether you're a vegan or non-vegan, because that's your business," she said. 
The entire new collection will be available at grocery stores this summer.
Tabitha Brown's McCormick seasonings for every vegan meal
The new seasonings are part of an ongoing collaboration between McCormick and Brown. The new line represents the first time McCormick has released salt-free recipe mixes.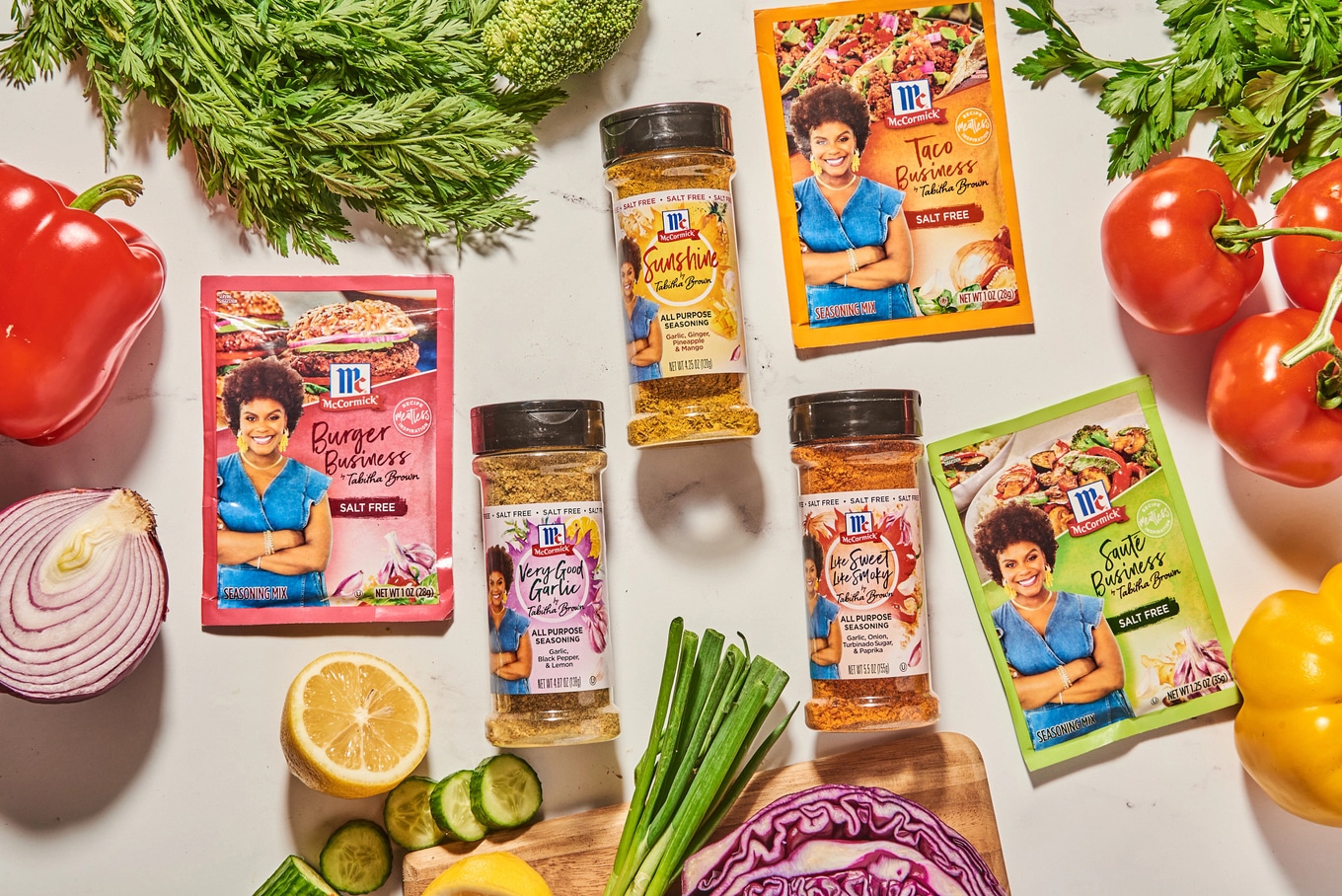 McCormick
"Expanding our partnership with Tabitha was an easy decision for us," Giovanna DiLegge, Vice President Marketing, NA Consumer at McCormick, said in a statement. "We continue to be blown away by Tabitha's loyal community and are thrilled to be bringing these five new products to consumers nationwide." 
"With these additions to the collection, consumers will be able to make a variety of easy, and healthy meals," DiLegge said. "We hope these products inspire clean, healthy, and most importantly, delicious, eating that can be sustained for all."
Brown also developed a variety of vegan recipes that call for the new McCormick seasonings to help fans make delicious plant-based meals. In June, the entrepreneur will also appear at a special farmer's market in New York City hosted by McCormick to showcase the seasonings. 
Tabitha Brown sells out of Sunshine Seasoning
When Brown released her first limited-edition Sunshine All Purpose Seasoning, the vegan spice blend promptly sold out in 39 minutes—which led to a black market of sorts. On Ebay, several listings for the seasoning reached bids of upwards of $120 for a two-pack of the spice blend, putting the price astronomically higher than the seasoning's $14.95 per pack of two.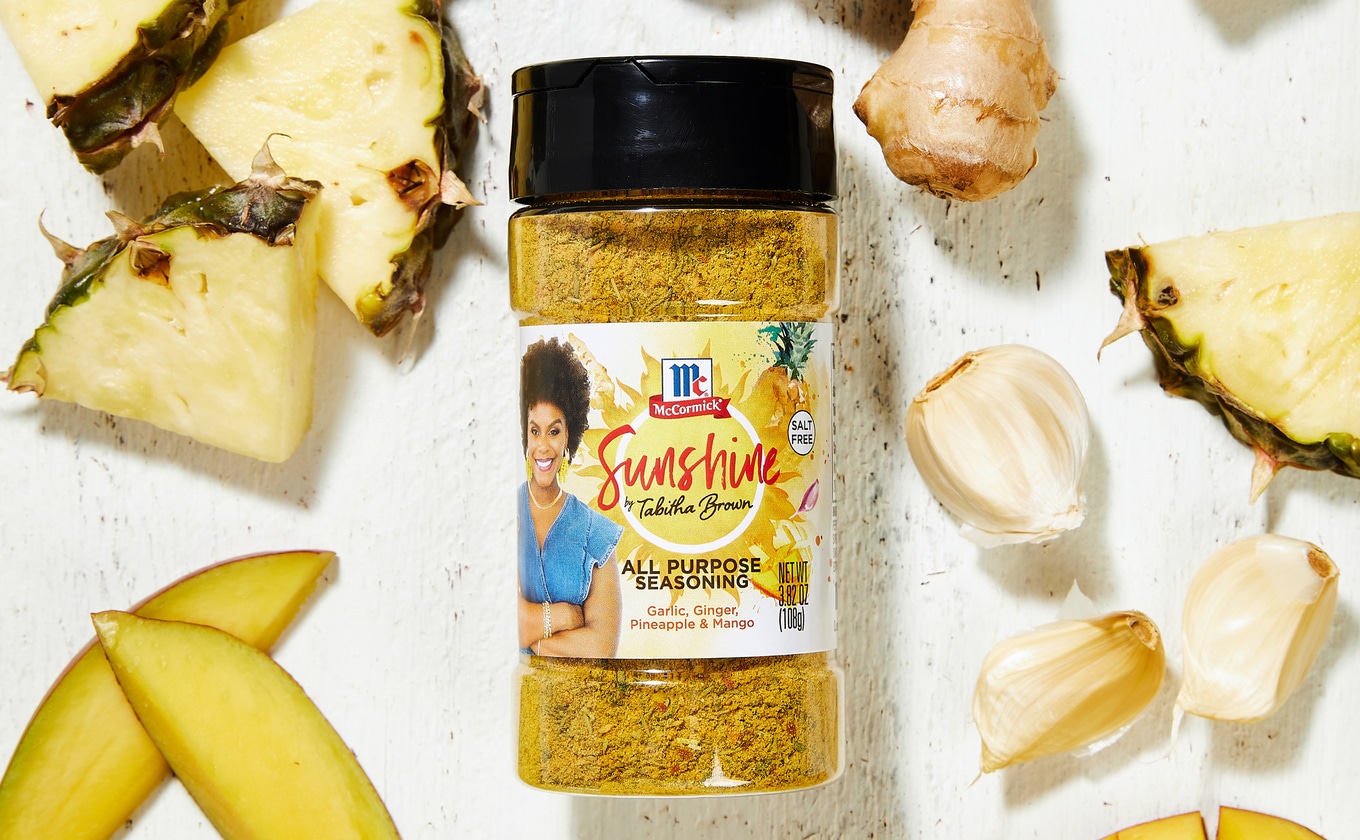 McCormick
Brown was hands-on with the formulation of the Sunshine seasoning, which is made with her go-to garlic powder, ginger, thyme, turmeric, allspice, and a dash of mango and pineapple powders for sweetness. After the wildly successful launch of the Sunshine seasoning, Brown will continue to represent McCormick as a spokesperson to help home cooks incorporate spices into their recipes.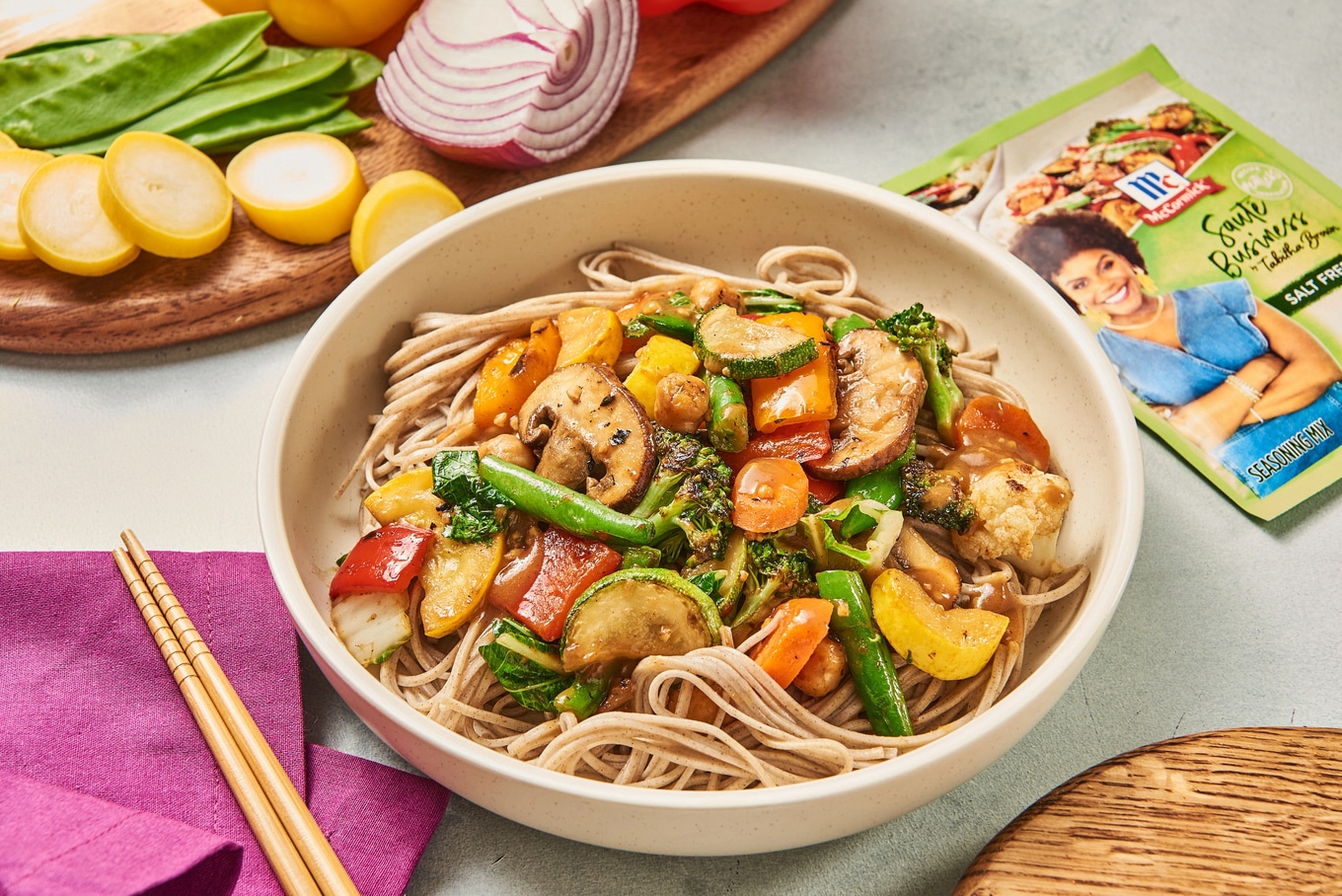 McCormick
For those that could get their hands on Sunshine seasoning, Brown developed several recipes to showcase its summery Caribbean-inspired flavor profile, including Sunshine Shick'n (shiitake mushroom-based vegan chicken stir-fry coated with a sweet and savory sauce); Maple Roasted Sweet Potato Wedges; and Chicky Farro Bowl (farro bowl topped with roasted chickpeas coated in Sunshine Seasoning.
"Sunshine for me is about spreading positivity. I always say, 'Have a good day and if you can't, don't you dare go messing up nobody else's.' This seasoning is all about bringing that radiance and positive energy into your kitchen," Brown previously said in a statement. 
"You can use the Sunshine All Purpose Seasoning on any dishes you have planned this summer, whether it's for heading out to a BBQ or cooking at home because that's your business," she said.
Tabitha Brown's meteoric rise to the top 
Brown went vegan in 2017 and gained popularity after posting a video of herself eating a vegan "TTLA" sandwich from Whole Foods Market in her car. Since then, the actress-turned-vegan influencer has risen to astronomical fame, including on TikTok where her vegan carrot bacon recipe went viral in 2020, landing her on TikTok's top creator list that year.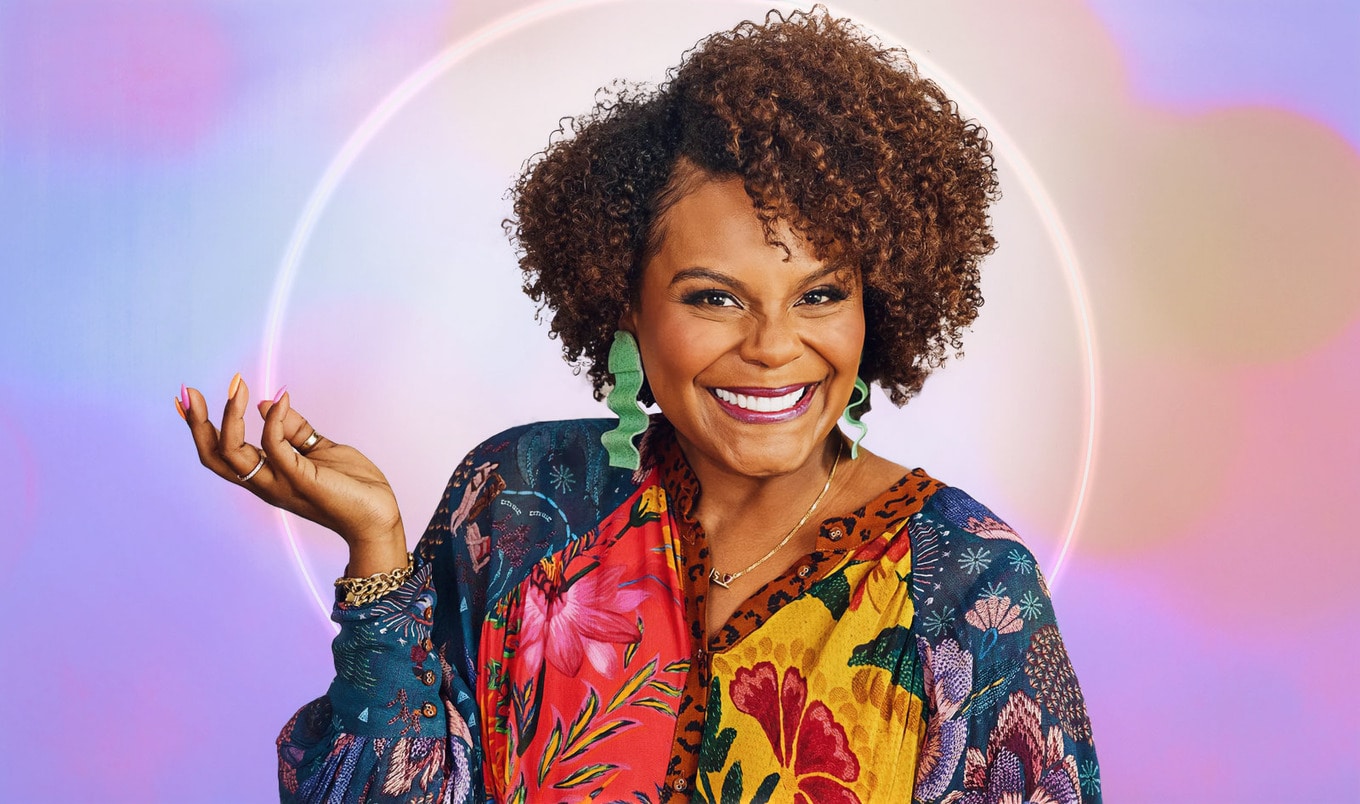 Harper Collins
In the last six years, Brown has become a household name. The influencer has brought her cheerful-yet-insightful approach to life to a number of television appearances, books, and multiple business ventures. 
In addition to McCormick, another super successful launch was Brown's collaboration with Target which has thus far resulted in three collections of fashionable finds, home goods, and, most recently, a vegan food and kitchen line.  While we await to see what the fourth Target collection will bring, this week, Brown is busy celebrating her 20-year-anniversary with husband Chance Brown. 
The couple participated in a special photoshoot for People to commemorate the milestone and were dressed in all white outfits taken to the next level with feathery accents—which Brown insisted were made from vegan materials.
For the latest vegan news, read: