Lifestyle
Burger King's Vegan Chicken Confuses Kids in Cute Ad: "Does This Count Like a Vegetable?"
Burger King's newest ad campaign for its vegan chicken options plays on the fact that kids ask the darndest things. Is a cookie jar still a cookie jar if it's empty? Why did dad spend so much money on a car in which only the front windows open?
These are the pressing questions children innocently explore before the ad zooms in on Burger King's plant-based options.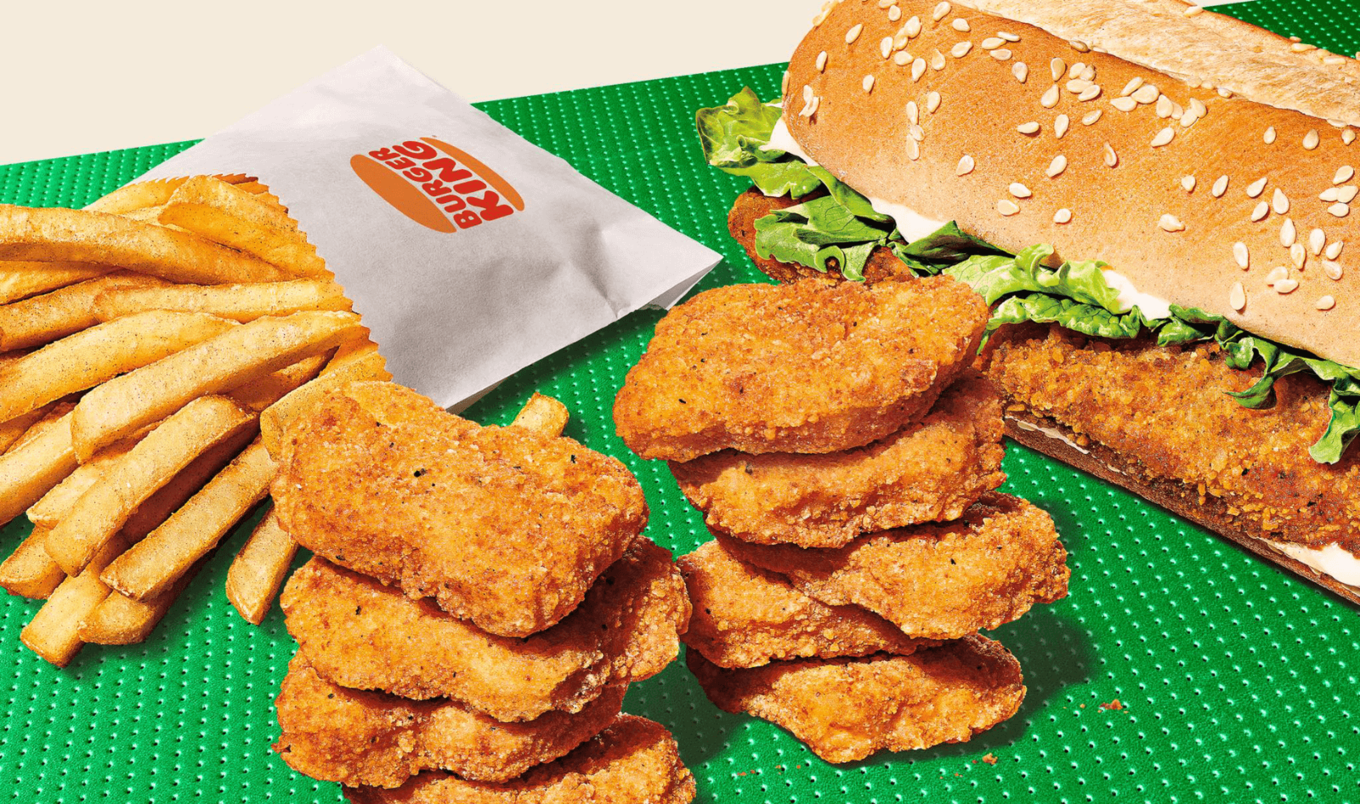 Burger King
"These are the perfect days to try Burger King's Plant-Based Long Chicken that dad says tastes exactly like … a Long Chicken," the child narrator says about the sandwich also known as a "Chicken Royale," before adding, "Does this count like a vegetable?"
This new ad is the third installment of Burger King's "Confusing Times" campaign which explores its plant-based options against the backdrop of thought-provoking, sometimes confusing, questions. 
"This year's campaign is coming back to the origin of Burger King's leap in the plant-based segment, which started with the plant-based Whopper and has been steadily expanding ever since," Sabrina Ferretti, Burger King's Head of International Marketing, said in a statement. 
"With Colombia adding the plant-based Long Chicken and Nuggets, and countries in Europe offering most of their sandwiches and nuggets with plant-based alternatives, we're covering everything right down to the plant-based Whopper Jr.," Ferretti said. "This chapter of Confusing Times does a great job of renewing the platform while serving more guests' needs." 
The ad will first run in Latin America before expanding globally where it will be adapted to regional markets and run in radio and print. 
Burger King gets into plant-based chicken
While Burger King began its foray into the plant-based space in 2019 with beef alternatives by way of the Impossible Whopper, the fast-food chain has widely expanded its offerings both globally and in terms of menu variety, particularly when it comes to plant-based chicken.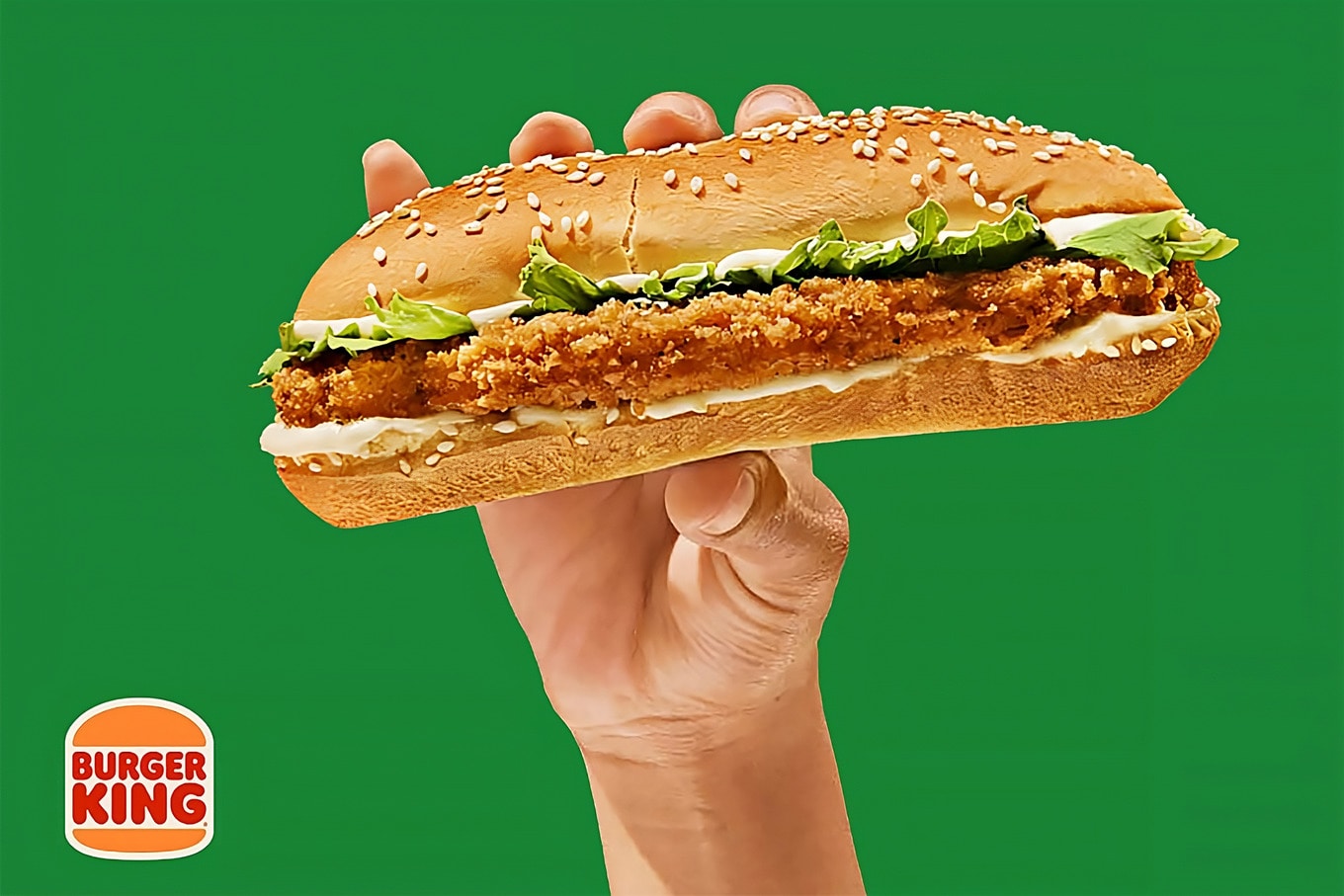 Burger King
Last year, Burger King explored its first plant-based chicken option domestically together with Impossible Foods with the limited launch of the Original Chick'n Sandwich at participating Cincinnati, OH locations. While this sandwich—which was available vegan sans mayonnaise—has yet to expand nationally, Burger King currently offers vegan chicken options in other markets. 
Down in Latin America, the chain works with The Not Company, a Chilean company that uses artificial intelligence to approximate animal products on a molecular level using plant-derived ingredients. NotCo has supplied the plant-based patty for Burger King's meatless Whopper in Chile since 2020. Last year, Burger King expanded its partnership with new NotChicken items, including King Vegetal, King Italiano Vegetal, and plant-based nuggets.
In many global markets, including Europe, Burger King works primarily with The Vegetarian Butcher, a Unilever-owned company. Last year, Burger King became the first fast-food chain in the United Kingdom to launch vegan chicken nuggets.
"Adapting to customer preferences is a key focus at Burger King," Alasdair Murdoch, chief executive of Burger King UK, said in a statement at the time. "We are committed to helping our guests make good decisions about what they eat and drink and providing them with informed choices."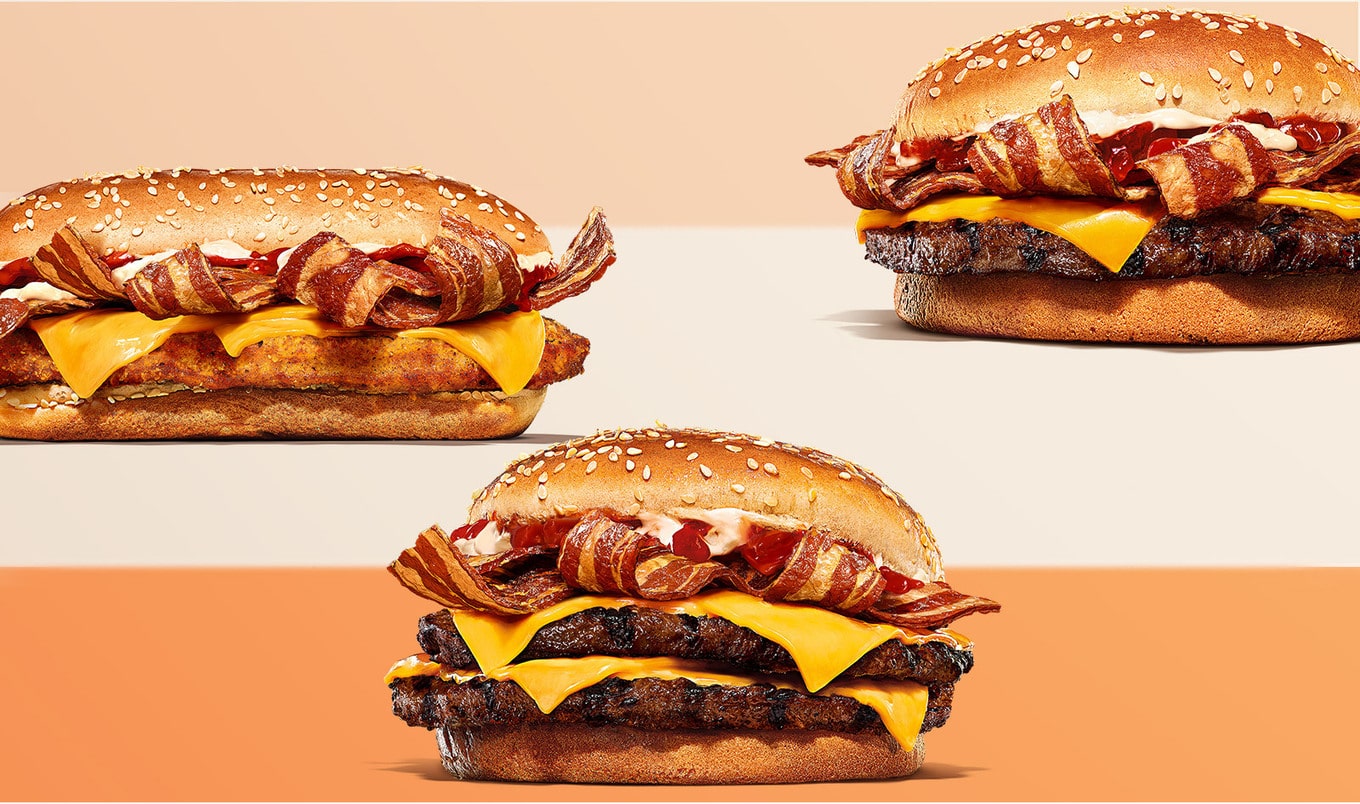 Burger King
Since then, Burger King UK—which has a goal of making half its menu plant-based by 2030—has expanded into other exciting options, including this year's addition of three new vegan bacon cheeseburgers. 
Burger King's vegan ad campaigns
These days, Burger King is doing more than flipping burgers. The international chain is also flipping the script on animal-based meat being the norm. Last year in Austria,  Burger King ran a campaign titled "Meat Option." Here, plant-based meat was assumed the norm while animal-derived meat was not—flipping the common narrative on its head. As part of the campaign, customers at Burger King Austria who ordered burgers were given the choice "regular or meat-based?"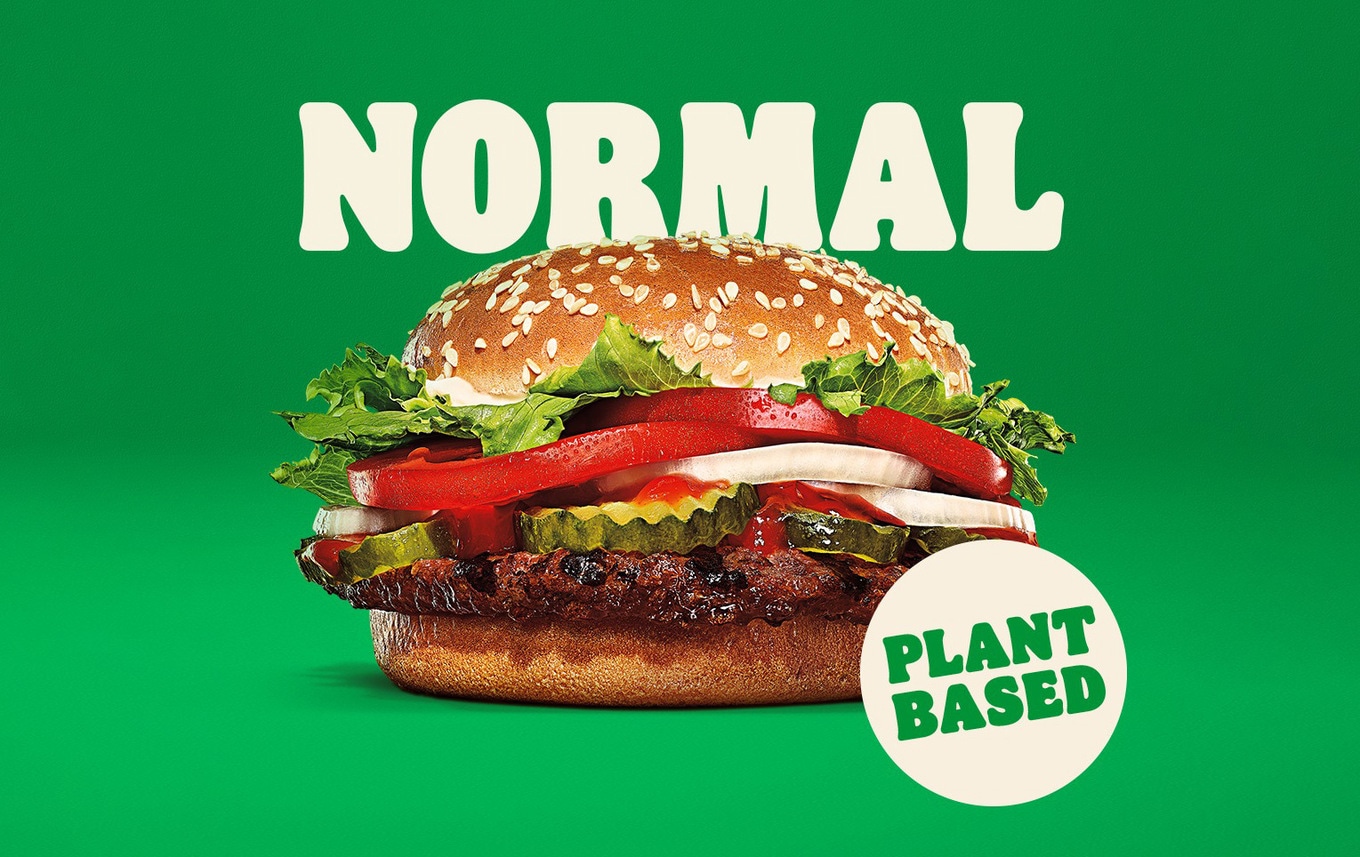 Burger King
"At Burger King, we are making meatless indulgence a permanent fixture on our menu, because meat no longer comes naturally to everyone," Jan-Christoph Küster, Chief Marketing Officer of the TQSR Group, the Austrian master franchisee of the Burger King brand, said in a German language statement at the time. 
"With the provocative question 'Normal or meat?' we want to show that we take our customers and their needs seriously," Küster said. "Because from now on, we also serve almost our entire range [as plant-based]." 
Burger King also celebrated UK's National Burger Day last year with a "Whopper Swapper" campaign, giving away 10,000 Plant-Based Whoppers and Vegan Royales​​ to encourage customers to swap out their beef burger for a plant-based option.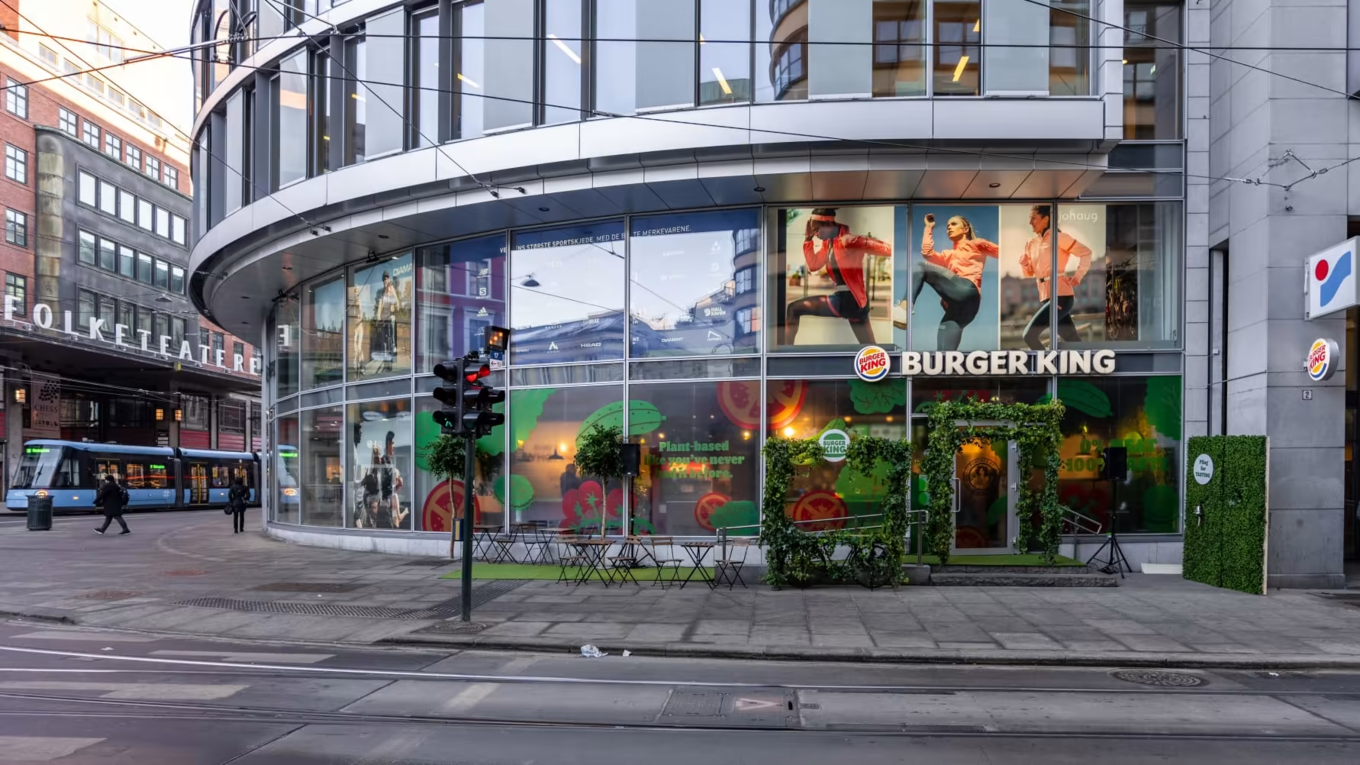 Burger King
And it's not just Burger King's ad campaigns that are changing the narrative. In recent years, Burger King has explored plant-based pop-ups globally, transforming locations in the UK, Germany, Spain, Switzerland, Chile, Costa Rica, and more into vegan paradises with meatless burgers, chicken-free sandwiches, and more.
"Our ultimate goal is to position Burger King as the leader and go-to for the best-tasting plant-based food in the quick-service restaurant industry," Farretti previously told VegNews.
For the latest vegan news, read: