Lifestyle
124-Year-Old Australian Dairy Brand Bega Launches Its First Plant-Based Cheese – vegconomist
Bega, an Australian dairy brand, is offering plant-based cheese for the first time in its 124-year history. The cheddar alternative is available in sliced and shredded formats.
The company said the launch was "an important evolution to ensure that Bega Group is positioned to take advantage of the growing plant-based segment", adding that the brand's expertise in conventional cheese-making makes it ideally suited to developing dairy-free alternatives.
The launch has attracted some controversy on social media, with some vegan consumers calling on Bega to "stay out of it [the plant-based market]" to avoid competing with small plant-based producers. Others have complained that the cheeses are priced higher than Bega's dairy offerings, while also being more expensive than other vegan cheeses.
However, many consumers have welcomed the new addition to the market, saying they are excited to try it. One poster commented that many dairy companies seem to be taking an "if you can't beat 'em, join 'em approach", noting that Bega has recently reported a significant drop in profits and may be looking to diversify.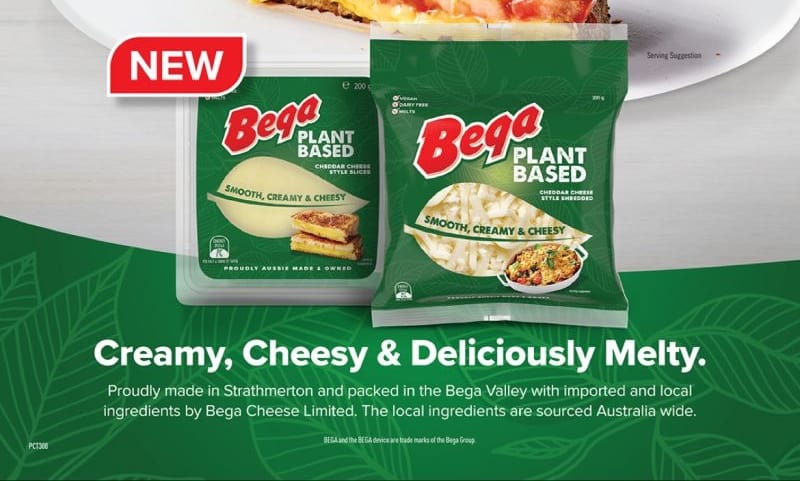 Growing market importance
While this is Bega's first plant-based cheese launch, the company has previously been involved with the alt dairy sector, acquiring a 49% share in Hong Kong-based Vitasoy in 2021. However, Vitasoy exercised its right to buy back the share late last year.
At the time, Bega said it "recognises the growing market importance of plant-based beverages and products and will assess its options to continue involvement in this sector". The new dairy-free cheese launch confirms that the company intends to stay active in the plant-based industry.
"Bega's plant-based cheese range has undergone sensory testing to create a smooth, creamy, cheese-style product that delivers on texture and taste. The range is proudly in line with the quality of Bega's great portfolio of products that our consumers know and love," said Niamh Farrell, marketing manager at Bega.
The cheese alternatives are now available at Coles supermarkets, and will be rolling out at independent stores later in the year.